---
The Studio Experience is a hands-on workshop where you have the opportunity to craft your own ring or other piece of jewelry. This workshop is perfect for couples who want to infuse their wedding or commitment rings with the shared experience of creating them together or for someone who would like to create their own personal heirloom.
THE PROCESS
The Studio Experience starts with a consultation with me, Christine Heidel. I am the owner and maker behind the jewelry line Silver + Salt. During the consultation, we will talk about your ideas for your piece of jewelry, decide on the best fabrication method, select materials and source any gemstones you would like to include in your design.

Once the plan is set, we will schedule a workshop. Workshops typically last 4-6 hours, depending on your design, and you will usually be able to take your jewelry home at the end of the workshop. During the workshop, I will be with you each step of the way to help you realize your design.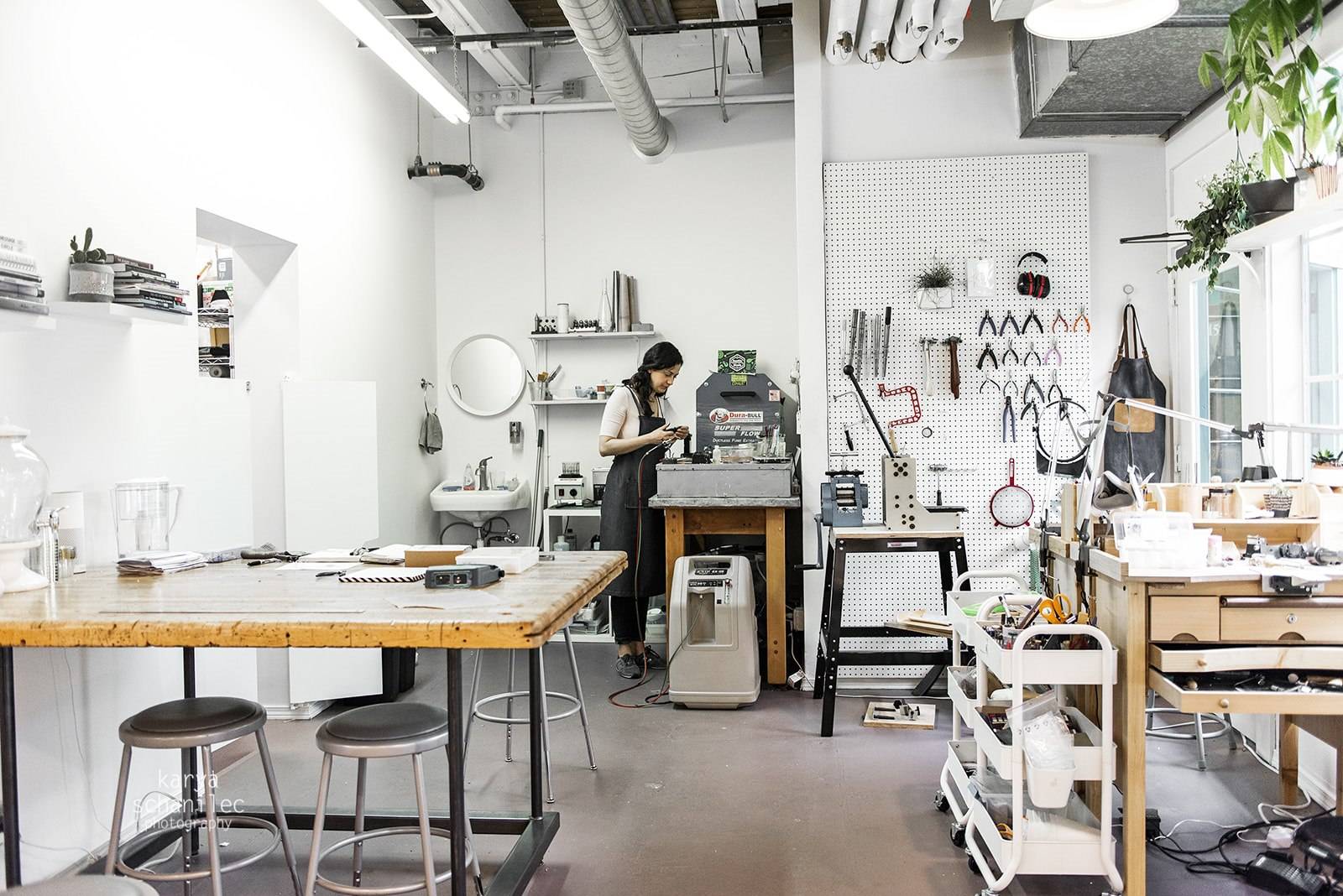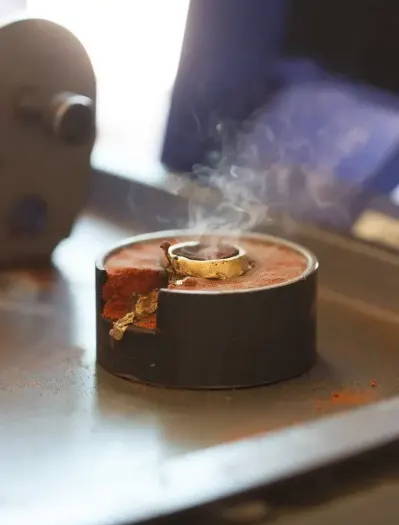 SAND CASTING
The Silver + Salt Studio Experience offers the unique opportunity to create your jewelry using the traditional sand-casting technique. Sand-cast jewelry has a tremendous amount of texture and character. No two sand-castings are ever alike so, your jewelry will be truly one-of-a-kind.
Sand casting starts with a wax carving session where you will carve your design in hard wax to create the model that we will cast from. Once the model is complete, we will pack it into a special type of sand to create a mold. Molten metal is poured into the sand mold, forming your ring. From there, we will sand and polish the ring and set any stones. With this method, you also have the option to recycle any family jewelry that you may like to incorporate into your new design.  
In addition to sand-casting, we can also create your jewelry using the lost-wax casting method or by fabricating your design directly from sheet and wire. Whether your design is fabricated or cast, the end result will be a one-of-a-kind, handmade treasure that will carry with it the unique memories of your experience creating it.
---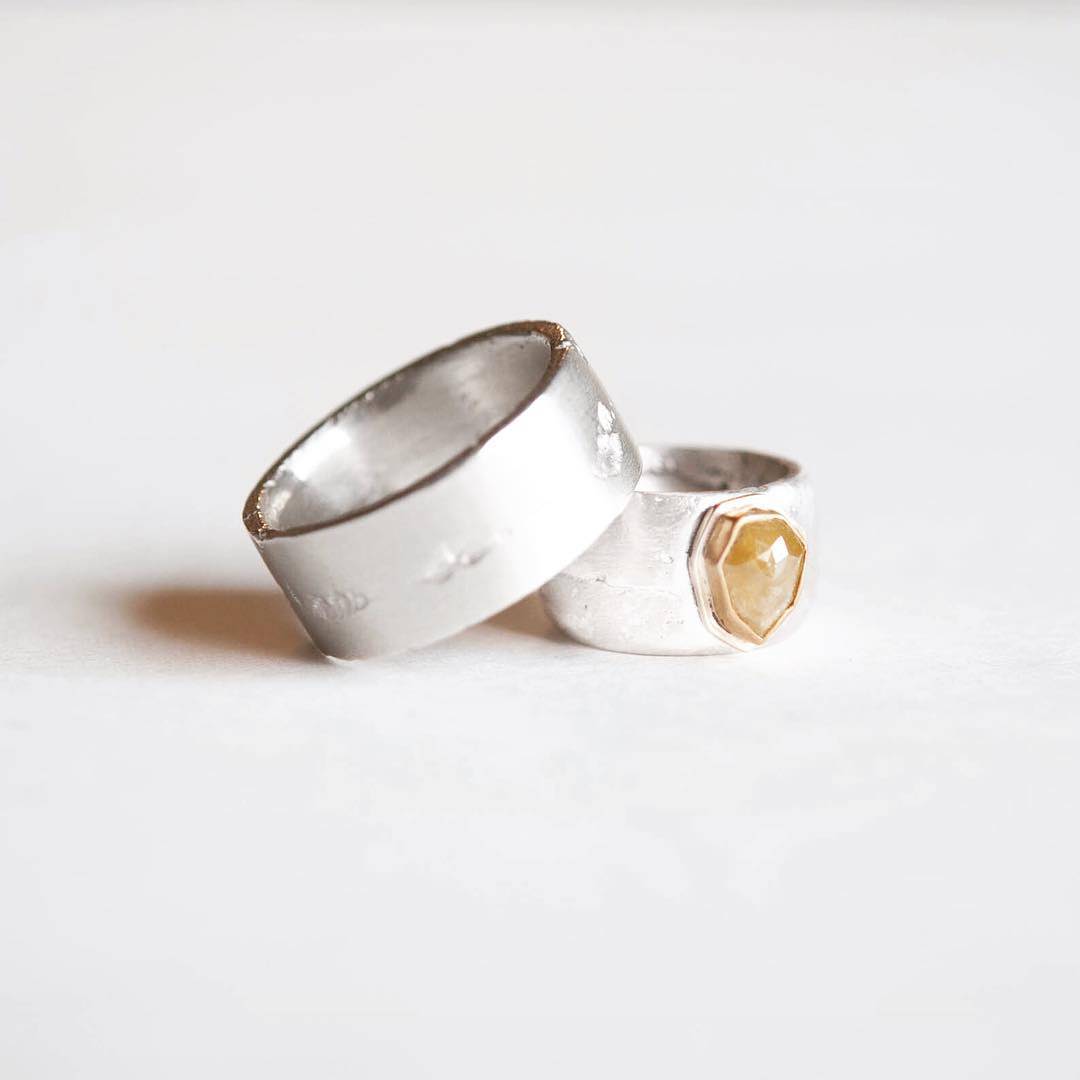 "Wow, what an amazing experience at Silver + Salt. We participated in the hands on creating of our wedding bands with expert assistance. We were able to create something uniquely US that, through Christine's impeccable finish work, will stand the test of time."
Kelly + Brad
---
PRICING
The price of your jewelry starts with the workshop fee of $500. The rest of the cost depends on your design, metal choice, fabrication method and whether your design includes gemstones. Because there are so many different factors that contribute to the cost of a piece of jewelry, we can discuss a more specific price estimate during your consultation so that you can ensure that your design fits within your budget.
GET STARTED
To get started with a workshop, please fill out the form below to schedule a consultation. You can also email us at info@silverandsalt.co or call the studio at 206-624-6122.
I look forward to meeting with you and getting to work on your wonderful creations!
Thank you for reaching out about scheduling a Studio Experience. I will be in touch with you soon to schedule a consultation!
This field is required
This field is required
This field is required
This field is required